Injection Mold Making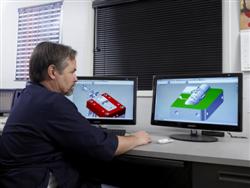 Mold making Using the Latest in CAD Software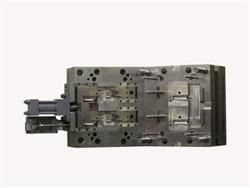 Complex, High Quality Mold Making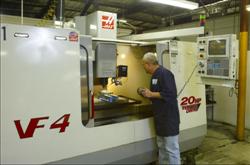 One of Three CNC Machining Centers in Our Mold Making Department
JG Plastics can provide construction assistance for every kind of injection molded part. We employ state of the art CAD/CAM software (SolidWorks/Mastercam) to achieve the results you expect from your molded components. We can help you create a tooling that is cost effective and reliable. Our 40 years in the tool making business will ensure your plastic component is put into production quickly and efficiently. And all our tools are built right here in the USA.
Our modern, fully equipped tool shop is capable of producing tools to the highest SPI standard. We have all the equipment necessary to produce your precision mold, including: Haas CNC's; Mitsubishi and Charmilles EDM's; Moore Jig Grinders; Bridgeport Mills; surface grinders; and more. We also have a team of full-time toolmakers who are capable of taking your tooling from concept to finished mold.
JG Plastics has experience with all types of plastic components and engineered resins. We understand how each resin will affect your molded part. Our knowledge of plastic materials allows us to adjust the dimensions of your mold to ensure the part is right the first time. Our unique in-house tool making capabilities take the hassle out of developing your molded parts. And if tooling adjustments or repairs are ever required, our in-house tool shop can provide faster turnaround to keep your parts in production.
We contruct tooling with manufacturablity in mind. We can review your plastic part design to ensure superior fit, form and function, while at the same time minimizing part cost and tooling cost. When necessary, we will use mold flow studies to determine the best, most effective tool construction for your part design. When our tooling and molding technicians evaluate your part, they have the unique ability to visualize the mold itself to determine what needs to be changed to maximize efficiency. We strive to provide you with lowest cost molded part while at the same time satisfying all your quality requirements.
Our knowledge of tight tolerances, complex assemblies, and precision molding allows us to work with your part from initial concept to final assembly and packaging. We know your mold is the first step in producing quality parts. From implantable devices used in medical industry to nano-connectors and parts used in the space station, we have the tool making experience to provide you with highly technical, reliable components you demand.
For more information regarding our mold making capabilities, contact us.
We are a complete plastic injection molding facility including thermoplastic and thermoset molding