Class 10,000 Cleanroom Molding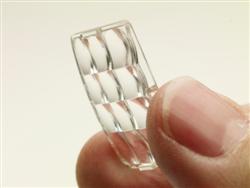 High Precision Optical Lens Cleanroom Molding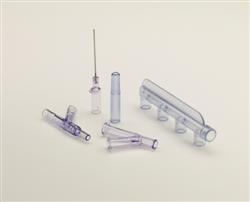 Medical Cleanroom Injection Molding
JG Plastics' commitment to cleanroom injection molding is reflected in our new 2,000 sq. ft., class 10,000 / ISO Class 7 cleanroom. Our modern climate controlled cleanroom is complete with integrated over-head crane and external drying/material feeding capabilities. And with new, state of the art injection molding machines, we have the ability to meet virtually any medical cleanroom injection molding or optical lens molding requirement.
Our fixed wall cleanroom is equipped with five Injection Molding presses ranging in size from 30 to 150 tons. We also have two Portable, Class 100,000 / ISO Class 8 Cleanrooms that allow us to use any of our 19 other injection molding machines as needed. Our highly trained staff adheres to stringent cleanroom operating procedures, insuring that all work is preformed with the utmost care. We use a wide variety of materials to mold all types of Medical Devices and Optical Grade Lenses.
A few of the many items that we cleanroom injection mold:
Class VI Implantables
Fluid Delivery Connectors / Devices
Medical Device Housings
Optical Grade Lenses
Surgical Instruments
Emergency Room Products
Dental Products
Eye Treatment Devices
Cardiac Products
Blood Delivery Housings
One of our distinct advantages over other injection molders is our in-house Mold Making Department. We have the ability to help customers engineer and design parts, and then convert these part designs into production tooling built in-house. When we design the tooling, our customers know that we are taking the entire injection molding process into consideration. This has a tremendous effect on part quality, mold reliability and total project cost.
Every employee at JG Plastics is part of the quality department. This philosophy enables us to produce products with confidence. We work with some of the world's largest medical and optical companies to produce precise components and products, all in compliance with FDA regulations.
In addition to Cleanroom Injection Molding, we also provide Cleanroom assembly, testing, packaging and decorating.
If you are in need of cleanroom injection molding, or medical injection molding please contact us for further information.
We are a complete plastic injection molding facility including thermoplastic and thermoset molding